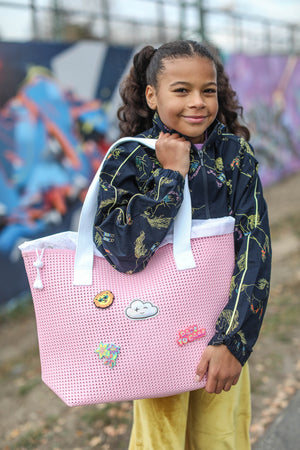 Introducing Nimix
Nimix are charms that can be easily applied to the Light+Nine bags. Choose nimix that speak for themselves. What does your bag say about you? Make it unique. By giving it a voice in the form of DIY magic. Our bags are never camera shy. Why? They have lots to say!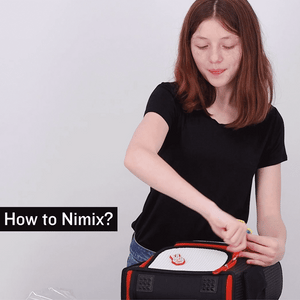 Easy as 1-2-3
EXPRESS YOURSELF — Choose from our collection of backpacks, lunch bags, and accessories.

LET YOUR IMAGINATION SOAR — Personalize by adding your nimix.

HAVE FUN — Trade and swap your nimix to create unique looks and designs.
Shop Now
How to Insert Your Nimix
Let's be creative! To get started, follow our easy-to-follow guide...
I Have Access to the Backside
If you have access to the backside of the bag, use these easy-to-follow instructions...
1. Our products feature small holes which allow you to personalize your bag. Choose a space for your charm (be creative)! Remove the two caps from the back of your nimix and keep these safe.
2. Open the front pocket of your bag. Place the nimix posts into two nearby holes, so the nimix sits flat and secure. Your second hand can find these posts in the interior of your bag.
3. Reach inside your bag through the front pocket and screw back the caps onto the nimix posts, to keep your charm secure.
4. Have fun! Trade and swap your nimix to create unique looks and designs.
I don't have access to the backside
Some of our bags have been designed slightly differently, but they are still customisable! Here's how:
1. Choose a space for your charm and be creative. Do NOT remove the caps from the posts in back of your nimix.
2. Using both hands carefully press the first metal ball into your first hole. Ensure the ball is inserted completely through the hole.
3. Repeat the previous step with the second metal ball using a nearby perforated hole. The ball should be fully inserted through the hole and the Nimix should sit flat and securely on your bag.
4. Have fun! Trade and swap your Nimix to create unique looks and designs.
Shop The Collection
Share Your Light+Nine Style:
Share a photo or video of your collection with us on Instagram to receive a free nimix.* Simply use #mynimix and tag us, @lightplusnine.

*Limit one nimix per account. Offer valid in US only. We reserve the right to end this promotion at any time.
Shop Nimix →
Looking for more information?
Don't worry! We're here for you. Please get in touch with us, and we'll see what we can do.
Get in Touch